0.5'' Slot Wall Standards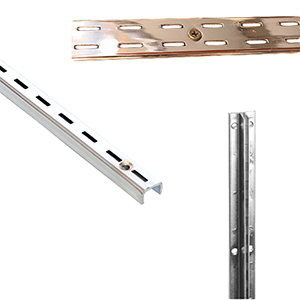 You might be asking, What are wall standards? Sometimes referred to as Universal Wall System, these wall standards with half inch slots screw into any wall to hang brackets. With two wall standards and brackets, you can create shelves, hang hangers, showcase helmets, and many other merchandises. Only specific brackets fit within these half inch slots. There is even double slotted wall standard to make multiple columns without the need to buy two single slotted half inch slotted wall standards which ultimately saves you money.
Our wall standards with half inch slots are made of steel with 1/16 inch thickness. The slots are half inch long and each slot is 1 inch apart, measuring from center to center. It has a depth of 1 inch and 6/16 inches wide. The height of the wall standards vary from 22 inches to 8 feet long. Find chrome, black, or brushed zinc.
Our "T" Concealed standards are special standards that will hide your wall standards but a caveat is that it must be installed before the walls are made! This is not typical but they create a seamless wall without the wall standards sticking out.
The American Retail Supply Universal System is produced in accordance with major U.S. manufacturer's standards with regard to steel hardness and wall thickness. Some lines may not meet these exact standards. This system is compatible with Capitol, Crown, Garcy, and Reeve.
Standards 6' and over will be shipped VIA common carrier. Freight will be quoted separately. You will be notified of the freight amount.