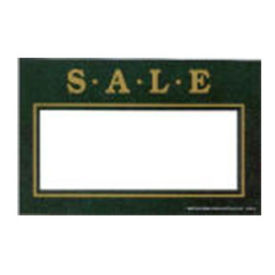 Sign Cards & Pens
Sign Cards and Sign Card Pen Sets are have been an industry favorite for small & large retailers for years. The versatility of creating your own pricing, promotional & unique selling messages make these products must haves for any business! Larger retail locations such as department stores, hardware locations and gift shops who are constantly adding new products find that pre-printed Sign Cards save them time & money and create consistency throughout their displays Because these Sign Cards already have a title to them, all retailers have to do is add the desired price or any other message to the card and they are ready for display! Most all of our Sign Cards are sized to fit into a Copy Machine, allowing for laser printing. However, for more custom designs, the Sign Card Pens are an easy and inexpensive solution as well.
Sign Cards
American Retail Supply offers several different styles of Sign Cards that will allow you to promote all your sales & specials. These attention grabbing Sign Cards are sure to attract potential customers thanks to their bright colors. Of the many different styles we offer, the most popular styles are the Pre-Printed & Unprinted cards, Seasonal Sign Cards & Open/Closed Window Signs.
Pre-Printed Sign Cards have specific titles already printed onto them. These Sign Cards are especially great for larger retailers who have multiple displays featuring like items. Phrases to choose from vary from "Sale", "Special", "Closeout", "as Advertised", "Clearance" & more! Pre-Printed Sign Cards save time seeing as the only thing that has to be added is your desired price! If you have a little more time to put into sign making, or want a more unique design, Unprinted Sign Cards are the perfect choice. American Retail Supply offers many different unprinted styles including starbursts, florescent, white with color banner & more! From Showroom displays to Backroom labeling these Sign Cards can really do it all! All these Sign Cards are on high quality 10 point card stock, come 100 cards per pack, and are available in multiple different sizes. You laser print on these cards or use our Sign Card Pen Sets to hand-write each card.
Seasonal Sign Cards are a great way to attract the attention of your customers to your different specials you are having around the seasons. American Retail Supply has Seasonal Sign Cards for Summer, spring, Halloween, Christmas, Valentines Day and more! With 20+ styles available there is sure to be a card to fit your needs! Seasonal Sign Cards are also Laser Print ready, giving you more freedom in your holiday/season store signage. Seasonal Sign Cards come on un-coated card stock and are sold 50 per pack.
Sign Card Pen Sets
Sign Card Pen Sets are ideal for high volume or artistic hand lettering on signs. Sign Card Pen Sets are specifically used on sign cards that are too large or irregular in shape/size to put through a computer printer. These pen sets are an inexpensive and environmentally safe water-based ink formulated for paper and other non-porous surfaces like glass & metal. The Special Performance Inks are not flammable or nor combustible and is fast drying, fade resistant & brightly colored. At American Retail Supply we offer a variety of different options for Sign Card Pen Sets. For starter kits, we offer the Trio Pen Set & Canister. This set comes with 3 different pens, the ink canister and a 32oz ink replacement bottle in the color of your choice. We offer the Special Performance Ink in 5 different colors; black, red, blue, green & yellow. Next is the Partner Pen Set which comes with 2 pens, the ink canister and a 8oz ink replacement bottle. Both of the sign card pen sets are great for individuals purchasing for the first time, or has had the same pens/canisters for a while and needs a fresh set! American Retail Supply also has replacement parts for those looking for specific items. Although these items are made to last, keeping your pen sets and sign kits in top working order is the best way to ensure quality work every time.
American Retail Supply has everything you need to ensure that your business runs smoothly. For more information or to speak to a Product Expert, please contact American Retail Supply at 1-800-426-5708