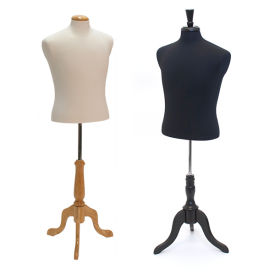 Full sized Mannequins are great for apparel stores looking to catch the attention of their customers. These full body display pieces are key components to stores looking to display their products in a unique way. From clothes to accessories, our Mannequins will not only satisfy your display needs, but also help your customers envision themselves in your products! Most of our products also come with detachable arms, hands, legs & torso, and come with a metal base, rod and fittings, allowing you the freedom to style and pose each mannequin with ease.
Head, Hand & Leg Forms
Unlike full sized mannequin, individual body part forms allow you to focus your individual display pieces like never before. Whether it is showing off jewelry, wigs, scarves, shoes or other products, smaller forms allow you the freedom to bring attention to individual items, instead of an overall look. At American Retail Supply we offer these mannequin forms in black, white, flesh tone and clear finishes.
Molded Forms
Molded Forms offer a great contemporary look to display your apparel products on. At American Retail Supply we offer these forms in two different materials, injection-molded styrene, which is a rigid and affordable form that is tough enough to withstand constant use, and a lighter plastic form that is lightweight and easy to display in multiple locations. Each Molded Form comes with a hook that allows you to hang your forms in different spots all over your store!
Dress Forms
Adult and Child Dress forms are the perfect combination of vintage and modern display pieces wrapped up in one! These forms are great for helping your customers visualize your exciting new collection and showcasing your apparel in a unique way. Each Dress Mannequin Form comes with an adjustable metal or wood base that can stand anywhere between 26"-40" from the floor to the bottom of the base. At American Retail Supply choose from a sophisticated black or smooth cream color.
Costumers
Costumers are metal display pieces that can be used to hand your Molded forms onto. Some of these displays are very basic in form, however we also offer a variety of shapes that are as unique and individualistic as your store and products! The great thing about Costumers is they are easy to maneuver and can fit in smaller areas that mannequins and other forms may not be able to fit! You can also use Costumers to hang other product on as well!