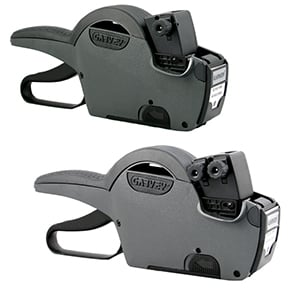 American Retail Supply offers 9 different Garvey Label Guns. Garvey labelers are a handheld tool used for pricing items. This Labeler works smoothly and allows your customer to identify all necessary information. Garvey label guns can be used for price marking, sku numbers and more. These labelers are extremely versatile, lightweight, ergonomically shaped and easy to use for the customers. The 25 Garvey Inker is compatible with all 9 of our label guns. It is very easy to understand Garvey Label Guns model Numbers.
The first number (18, 22, 25, or 29) refers to the label width in mm.
The second number (6, 7, 8 or 9) refers to the maximum number of characters the price gun prints.
American Retail Supply offers a repair and cleaning service on most Garvey Label Guns. Please contact us at 800-426-5708 for more information.