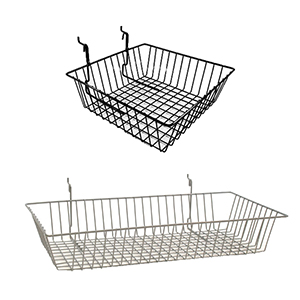 Gridwall baskets are attachable to gridwall panels. They can store medium size merchandise like gloves, hats, books, or envelopes. Too small of a product and it could fall through the space between the wires. However, not from our gridwall acrylic accessories as they don't have any gaps
Pick either white, chrome, or black from our gridwall baskets. Gridwall baskets in chrome have a polished finish which will reflect like a mirror. On the other hand, here at American Retail Supply our white and black gridwall baskets have a dull finish which wouldn't give that gleam like the chrome gridwall baskets.
The two sizes available for these baskets are either 12(W) x 12(L) x 4(H) or 24(W) x 12(L) x 4(H) inches. Our smaller gridwall baskets are great for holding small knickknacks.
American Retail Supply has been supplying store supplies for years and always get excellent feedback on our customer service. Give us a call for any questions or order from a LIVE rep.