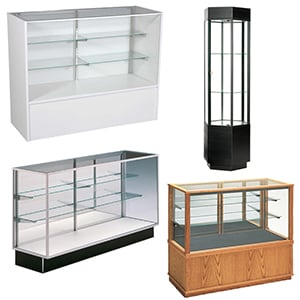 American Retail Supply has been proudly serving retail store fixture and display case needs since 1980's. American Retail Supply specializes and offers large collection of showcases and display cases for all types of retail stores such as gift shops, apparel stores, convenience stores, department store, pharmacy store including specialized retail stores such as jewelry store, golf store, sporting goods store, pet store or auto shop.
DIY Display Cases
American Retail Supply's DIY display cases are Do-it-Yourself economical showcases that are great for gift shops, convenience stores or cannabis stores who are looking economical and fast solution to their store display needs. These ready to ship display cases are made of MDF board and come with clear installation instructions. You can chose from 40+ different styles from wall display cases, jewelry display cases, glass display cases and many more.
Laminate Display Cases
The Laminate Display cases are great quality showcases for the retail store looking to offer great shopping experience in their store. These display cases are made using high pressure laminate (HPL) sheets and they can be customized to match any Formica or WilsonArt colors. You can customize your slatwall, wall panels and showcases with same color laminate to create unique store look. American Retail Supply offers more than 90 styles ranging in styles from jewelry display cases, half vision display cases, full vision display cases, extra vision display cases and many more. These showcases come with some great options for LED lighting or Mirror doors.
Hardwood Showcases
American Retail Supply offers one of the finest quality hardwood showcases for high end retail stores such as jewelry stores, golf shops, auto dealerships or gift shops. These showcases are made of carefully selected hard wood for long lasting durability, sturdiness and royal look. You can choose from more than 90 styles from wood countertop displays, wood tower display cases, antique style showcases, cash wraps, island display cases or all glass display cases. American Retail Supply uniquely offers customizing these wood showcases with different finishes. You can add LED lights to these wood showcases to highlight the merchandise in these display cases.
Premium Wood Showcases
The Premium wood showcases are one of the best quality showcases offered in the industry for museums or collectibles stores or very high end retailers such as jewelry shops, auto dealers, golf shops or winery gift shops. These display cases are all made in USA and carefully built on make to order (MTO) basis. These high quality, long lasting, sturdy premium display cases comes in more than 150 styles ranging from standard full vision showcases to special design showcases such as curved tower display case, curved wall display case, corner display case to hexagon style wall cases, tower displays, free standing jewelry displays. These showcases include high quality lights, locks and castors to move showcases easily. You can choose from large selection of colors / finishes to create unique look for your business.
Custom Showcases
Whether you select Laminate display cases, hard wood display cases or premium wood show cases, we can customize all or any of type of showcases per your business requirement and budget needs. If you are re-modeling or starting new business, we suggest that you work with our senior representatives who can help you narrow down needs for your store and other packaging needs. The display cases are shipped via LTL freight to optimize shipping costs all over North America and our experts work closely with you to make sure we serve your needs. In any case, please don't hesitate to contact us at 1-800-426-5708.