Metallic Color Paper Shopping Bags
100% Recycled paper bags
Min. 40% Post-consumer bags
Color/ Finish: Silver
Dimensions: 8" x 4-3/4" x 10-1/2" (Cub)
250 per case

Here at American Retail Supply, we value each and every sale. This number is updated regularly

...

More

SKU: 564220

100% Recycled paper bags
Min. 40% Post-consumer bags
Color/ Finish: Silver
Dimensions: 5-1/2" x 3-1/4" x 8-3/8" (Gem)
250 per case

Here at American Retail Supply, we value each and every sale. This number is updated regularly

...

More

SKU: 563920

100% Recycled paper bags
Min. 40% Post-consumer bags
Color/ Finish: Silver
Dimensions: 16" x 6" x 13" (Vogue)
250 per case

SKU: 566220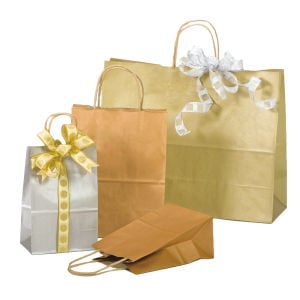 Metallic Colors on Brown Kraft Shopping Bags are flood coated with metallic ink. These shoppers have twisted paper handles.
Case packs for these bags are:
Gem, Cub, Vogue are 250 bags per case, Queen are 200 bags per case
Order bags by the case. Case quantities are listed above.
These bags are made from at least 30% recycled material.