Gift Wrap | Gift Ribbon | Gift Bows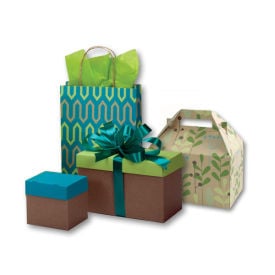 Packaging
Packaging can include bows, ribbon, wraphia, tulle, gift wrap and more. These items add a nice finishing touch to your packages. All this packaging can be used at a wedding, birthday, anniversary or holiday.
Gift Wrap
Be it your spouse's birthday, or your parent's anniversary, little brother's first day at college, or a colleague's farewell party, every occasion needs to be marked with lovely gifts and equally eye-catching gift wrap. American Retail Supply is stocked up with rolls of gift wraps so that you never need to rush to gift wrap stores.
So wrap it up in style with our beautiful gift wrap, and make the receiver go gaga about the sheet itself! Choose from hundreds of patterns, designs, and colors available at American Retail supply.
Gift Bows
Gift Bows are easy and convenient. For some of us making bows out of ribbon is hard. We offer 3 types of gift bows. Perfect Bows are as easy as pulling a string of ribbon and you get a perfectly professional looking bow.Pre-Notch Bows are also another simple bow. These bows come flat and all you have to do is fan the loops apart and you have a beautiful bow. Star Bows are made from a shiny poly ribbon. Just peel off the back and stick them to your gifts.
Gift Ribbon
Surprise your mom, dad, grandparents, sibling and even co workers with this Gift Ribbon. Gift Ribbon can be use for presents, decorations and even crafts. Choose from 11 categories and 350+ different ribbons.
If you don't see exactly what you need, call us at American Retail Supply 1-800-426-5708 to speak with one of our product experts.