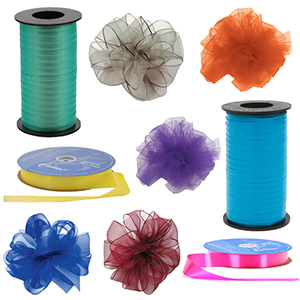 If you are searching for shiny, matte or natural gift ribbon, American Retail Supply has exactly what you are looking for.
Curling Ribbon is the most common ribbon sold in stores today. American Retail Supply offers two sizes of curling ribbon 3/16" & 3/8" with over 50+ assorted colors to choose from. Curling Ribbon has a crimped texture and comes on a roll. Using a pair of scissors on the backside of the curling ribbon is the easiest way to create the ringlet curl effect. This gift ribbon comes on a roll of 250 yds or 500 yds.
Grosgrain Ribbon is your answer to hair bows, cheer bows, gift wrapping and decorating needs. We offer many colors to choose from and all grosgrain ribbons come in two widths 5/8"x100yds and 1.5x50yds". The texture of this gift ribbon is sure to stand out as it is high quality, strong and 100% polyester ribbon.
Satin Ribbon is used for sewing, basket making and gift wrapping. Single face satin ribbon is matte on one side and shiny on the other. Single face ribbon is great for projects that you will only see one side of the ribbon like wrapping presents. Double sided satin ribbon is shiny on both sides. This double-sided satin ribbon is perfect for making hand-made bows which are a great choice for hair bows or a gift basket. Satin Ribbon comes in 50+ color option and a variety of 2 sizes 1.5"x50yds and 7/8"x100yds.
Wired Encore Ribbon is a very sheer ribbon with a wired edge made from 100% polyester. If you are looking for a ribbon to hold its shape, then this is the ribbon you for! Wired Gift Ribbon is great for crafting, scrap booking, gift wrapping and décor. Wired Ribbon is available in 5/8" x 25 yds or 1 1/2" x 25 yds and in a variety of different color options. What's not to love about the wired edge ribbon? This ribbon is very versatile and easy to manipulate into the shape you want.
Wraphia comes in 2 types Matte and Pearlized. Matte colored Wraphia is an ideal accessory to add to any gift whether it be weddings, birthday and even the holidays! Matte Wraphia is a synthetic alternate to natural raffia and is gentler to the touch while looking natural! Pearlized wraphia tends to sparkle a bit more. Looking for a shiny eye-catching ribbon try pearlized wraphia. 100% Rayon and Acid Free. At American Retail Supply we offer rolls of Wraphia in 30+ different colors, and each roll is 100 yards long!
If you do not see exactly what you need, please contact us at American Retail Supply and speak with one of our product experts 1-800-426-5708