Thermal Transfer Labels and Ribbon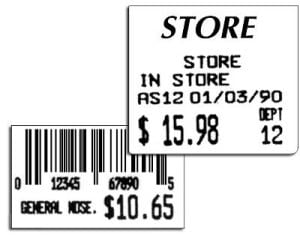 Thermal Transfer Labels & Ribbon
Thermal Labels & Ribbon are staple products for retailers to print high quality labels. Whether it be printing shipping labels, pricing labels or backroom organizing labels, having the right Thermal Labels & Ribbon is essential. With this in mind, American Retail Supply stocks a broad range of Thermal Labels & Ribbon to help ensure that your needs as a Retailer are taken care of.
Thermal Labels come in a variety of sizes & styles but before you can pick the one that works for you, make sure and check your machine to determine if you need a Thermal or Direct Thermal label. Direct Thermal Labels do not require a ribbon whereas Thermal Labels do require a ribbon, so knowing which label your machine requires is important. Thermal Transfer is the process in which wax (ribbon) is melted onto paper by applying heat, leaving a smooth surface on the label. Thermal Transfer Labels are more durable than their Direct Thermal counterparts, making them ideal for longer term applications. Our Thermal Labels are also perforated making for an easy year every time
Thermal Transfer Ribbons are a critical component in the thermal transfer printing process. This process features a hot print head that created the printed image by melting the ribbon material onto the label. Unlike a direct thermal printer, thermal transfer printer will NOT work without thermal ribbon. Although thermal ribbon may seem like an extra cost, this form of printing is less expensive overall due to its efficiency and quality. If you are unsure which Thermal Labels or Ribbon your printer requires, give one of our Product Experts a call at 1-800-426-5708 for a free sample!